ship containers to low maintenance pools
Calaak'Oncept, a company based in Geispolsheim, France which specializes in cargotecture or the transformation of freight structures into architectural products, designs and distributes swimming pools carved in shipping containers. Called Calaak swimming pools and manufactured in the Bas-Rhin by a collective of swimming pool specialists in Geispolsheim, the custom-made container swimming pools combine modern and industrial style. The structure does not start and end with the delivery and installation of the container pools, but the specialists guide their customers in what goes in and out of the cargotecture by advising them on the design of customizable and economical pools, out ground or buried. The company's mission lies in its desire to introduce its customers to eco-responsible swimming pool concepts requiring little maintenance and shares its joy at having recently extended its distribution and transport across France.
The company prides itself on having a varied choice of installation, whether above ground, semi-buried or even raised on a cliff to offer the view of the landscape. It offers fully customizable swimming pool layouts with many options for modifying them, an exterior finish that meets customer expectations from the glass surface and cladding to access and security, and a range of options allowing customers to build their pools to their specifications. . For Calaak'Oncept, the container pool industry is constantly evolving according to customer desires and consistent developments. It is also committed to providing its customers with advice and tailor-made solutions to meet the constraints of their outdoor spaces, whatever their size.
Images of Calaak'Oncept
Variants of shipping container pools
Calaak'Oncept offers three main categories of Calaak pools. The six meter pool saves space if customers want to install the pool in their backyard, making it ideal for tight spaces and accessible to anyone. The twelve-meter pools have two variants, a spacious one designed for sports enthusiasts, swimming enthusiasts and large families, and another designed for relaxation with a Jacuzzi area. Wellness options are also available, including two-, three-, and five-seat spas comprised of docks and loungers; hydromassage and aromatherapy; chromotherapy with a combination of ten colors; and selections of waterfalls accompanied by the sound of water.
As for customization, the exterior cladding comes with steel or wood materials with different colors available. The railing of the swimming pools can be in glazed, metallic or stainless surface, and wood species can also be ordered according to the environment or the terrace of the customers. Calaak pools consist of a fixed metal ladder, a removable wooden staircase, a central metal stringer and five steps, an external staircase and a pool modularity. A white LED floodlight is included to illuminate the pool at night with an option to have a colored LED floodlight with remote control, indirect peripheral lighting, a white LED strip and an LED spotlight at the bottom of the pool.
The swimming pool area is equipped with an automatic chlorine regulator, a salt chlorinator, biological filtration, a mister, a cover with roller and electric curtains, to name a few. -ones. The company claims that installation and setup only takes a day with the 16A electrical outlet coating, and the installation and commissioning of container pools is already included in the total cost of the pool. In addition to installing Calaak swimming pools and advising on the layout to be obtained, the team behind the company also provide electrical, plumbing and earthmoving solutions.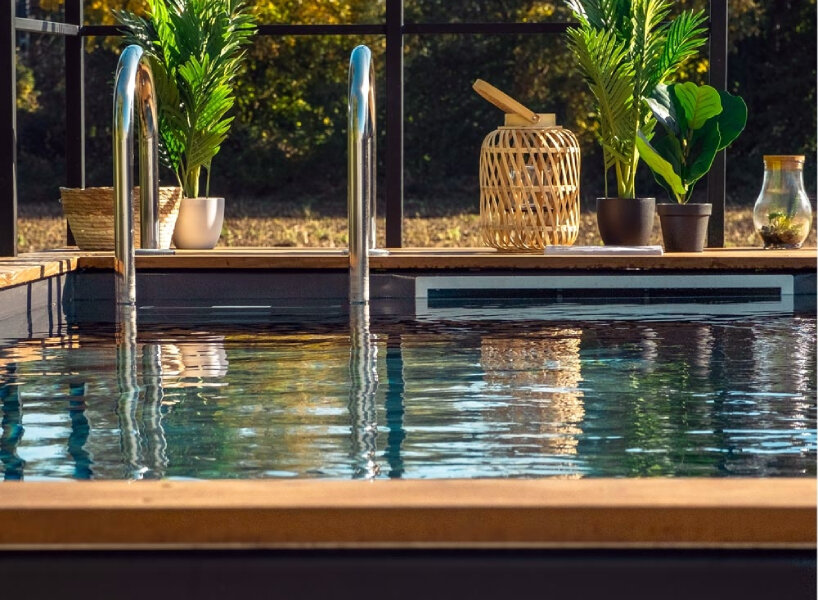 Calaak'Oncept transforms shipping containers into long-lasting, low-maintenance swimming pools
Transportation of shipping container pools
The manufacturing time can extend up to four weeks, depending on the workload. Container pools are transported by an 11m carrier truck or semi-trailer, depending on the model chosen, and it is possible to lift the pool depending on the feasibility of its installation. Depending on the size of the basin chosen, lifting and transport are carried out by truck crane or mobile crane. If necessary, the company can hoist the pool using a crane which is already included in transport and costs, and long reach cranes and helicopter lifting are still under consideration by the team, but are already considered as a potential way to transport the product. .
The company also appears to be offering a container pool house where it builds a shelter out of Calaak pools and integrates into a shower, bathroom, changing room and lounging area to complete the planned layout for the parties and gatherings at home. 'Its sturdiness and resistance to extreme weather conditions make it a good choice for a swimming pool,' writes the company. To top it all off, pool builders also offer anti-corrosion paints and guarantee that their materials are specially designed to resist impact, weathering and corrosion.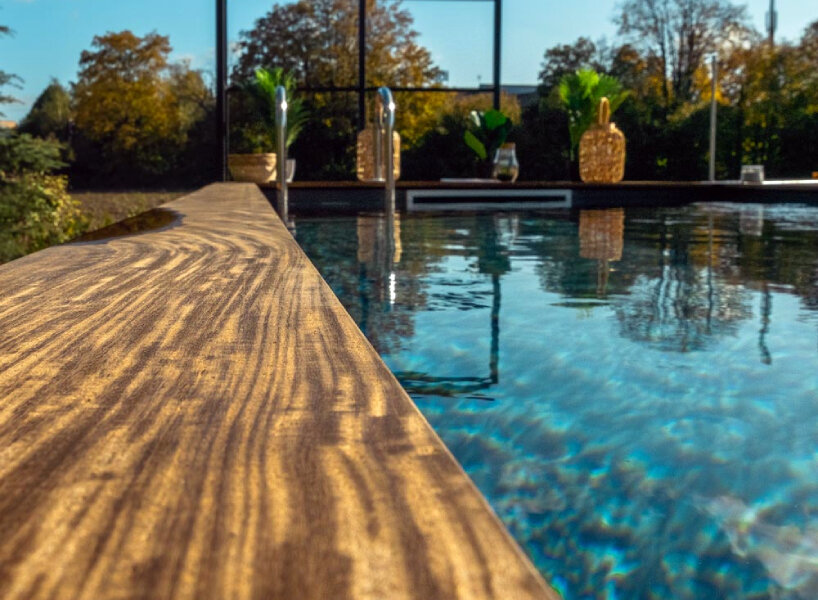 Close view of container pool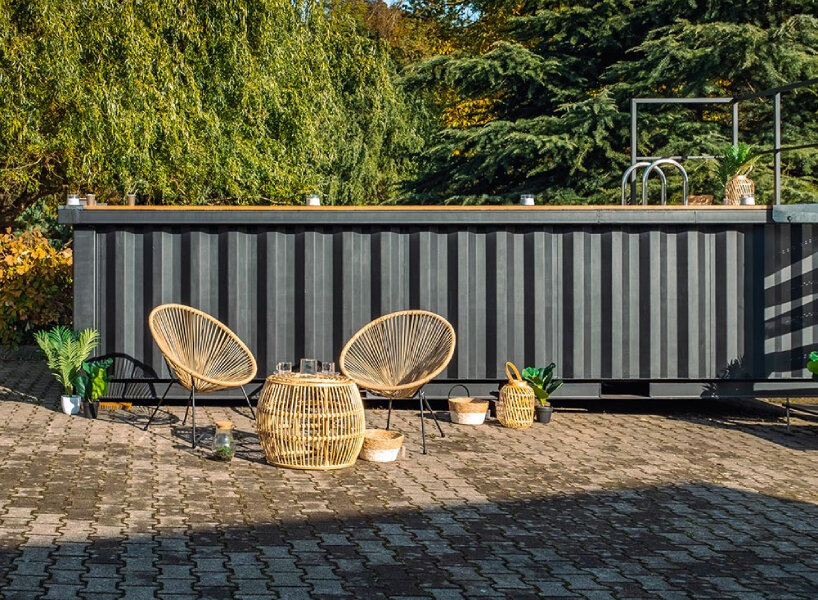 Above-ground version of the container pool

Underground version of the container pool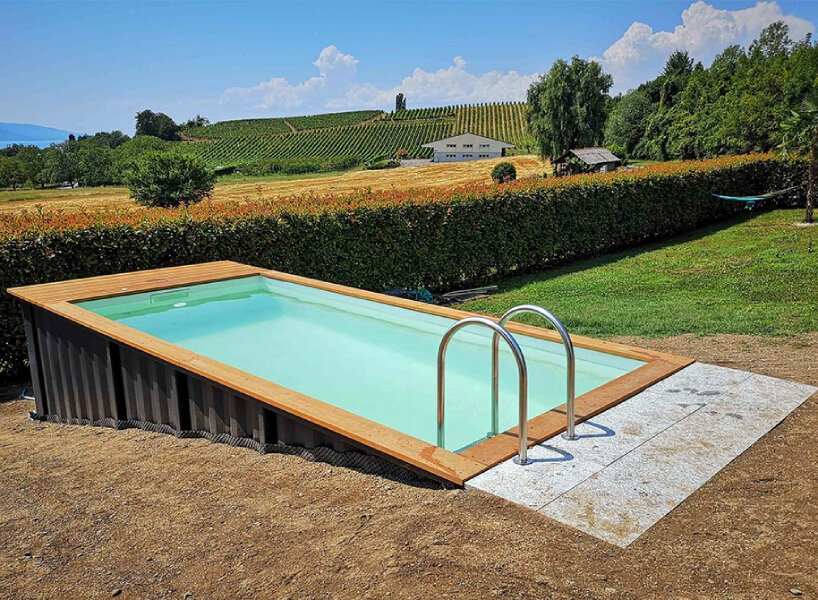 Semi-buried variant of the container pool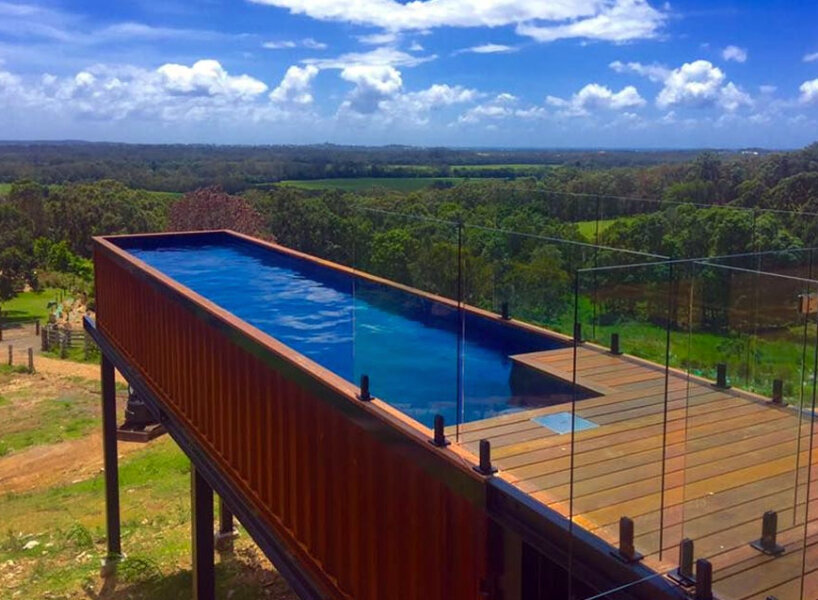 Raised variant of the container pool
project info:
Last name: Calaak Pools
company: Calaak'Oncept
Matthew Burgos | design boom
June 28, 2022